Arcade action, local multiplayer, free-for-all.
Designed for 2 to 4 players.
I was the sole producer and lead designer of HAVOC HOTEL. This project was completed within 3 months with a team of 6 and consisted of 2.5 days work time per week.
RESPONSIBILITIES INCLUDED:
Taking an idea from concept to full production.

Coordinating a team of 6 to develop and stick to a schedule with set dates and build requirements.

Work closely with programmer to make sure game feel is to the standard of player satisfaction.

Implementing animations of players and linking them to player

controller

.

Designing sections that can smoothly blend with

each other when spawned at random and that can be traversed easily yet still be challenging.

Designing user interfaces for main menu, player and gameplay.

Liaising with musicians to create relatable music for the theme of the game.

Art creation including main menu/ selection screen user interface and players particle systems.

Creating a trailer to showcase the game.

Create and modify sound effects for menu and players.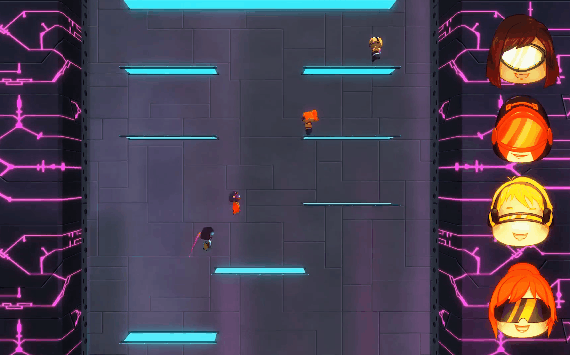 HAVOC HOTEL was my first group project. It was my
original
pitch idea that had been accepted by the group. There was initial ideas of power-ups however the scope needed to be cut shorter for the productions due date.
If you would like to download HAVOC HOTEL click the link below, it will take you to my itch.io page:
Please note the g

ame is only mapped to Xbox 360 and Xbox One controllers.